Search

Sales

Rentals

New Developments

Agents

Neighborhoods

Contact

About

Press
Meet our Agents
Client Testimonials
Ilia worked with my girlfriend and I on finding the perfect apartment for us and what we needed and wanted. He guided us through every step of the approval process, and fiercely negotiated on our behalf. I highly recommend his services as a broker. Thank you, Ilia!
Looking for an apartment was leaving me with an enormous sense of dread, until I met with Ilia. He got an immediate sense of what I was looking for and narrowed what would normally be an overwhelming search down to just a few days of top choices. I had plenty of time to look, but didn`t need it - he found the place I wanted that quickly. His down-to-earth style mixed with professionalism made my experience feel like just a great time hanging around the neighborhood. Thanks so much!
What a great experience! I started looking for my new place about a month ago. Ilia showed me a lot of great apartments; so many that it was almost difficult to decide which one to pick as my new BBQ haven. He helped me throughout the process, and made the decision a more informed one, and easier. I love my new place, and can`t wait to throw a party in my garden! Ideal Properties is invited!
Ilia did an awesome job of finding us a great apartment in a very short time. No pressure at all and was willing to show as many places as we had time to see. Very smooth transaction and GREAT customer service. Thanks again!
Amazing, well-synched crew! I worked with two different agents (I never realized they all share their listings!), and both were incredibly professional and knowledgeable. Thanks Ilia for helping us find just the right space. And thanks for not wasting our time, we really appreciate it!
LEAVE A TESTIMONIAL FOR ILIA
My featured listings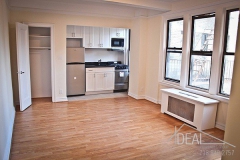 Property ID: 30142378
Luxury Studio in Brooklyn Heights!
Rooms: 0 | Bedrooms: 0 | Bathrooms: 1
Price: $2,100