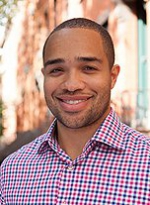 David Marchman, a native of New Jersey, is a seasoned business professional with a wealth of related experiences which serve him as invaluable when it comes to understanding and accurately deciphering his clients` exact needs.

A graduate of Saint Mary's College of Maryland with a concentration in Political Science, David`s clients find that he has an engaging personality which effortlessly translates into successful transactions and satisfied clientele.

David has been everywhere - he`s worked as a ESL tutor in France, worked as a campaign fund-raiser & organizer for a number of political campaigns, and he considers himself a true champion of the people, active in the communities he resides in, as well as their civic organizations.
Communication has always been integral for David when it comes to establishing relationships with his friends and clients alike. He`s found that real estate is equal parts challenging and rewarding, but always that he always gets a personal thrill when he finds his clients exactly what they`re looking for.

For your next real estate transaction, David will work dligently with you to understand your individual requirements, then accurately provide you with the best options available in the market, and work with you to set a timeframe for a smooth relocation to or within the fantastic land that is Brooklyn.

David feels you will find his integrity-based, customer-centric approach to real estate refreshing. It`s the true cornerstone of his overall business philosophy, and has a deep reflection in his success in the industry.